Energy Healing and
Chakra Balancing
We are in the process of redesigning our website and greatly appreciate your understanding as we update our services. We are no longer located in Tacoma. All sessions are offered via Zoom. 
Reiki Session – 50 Minutes
$100 Zoom Only
Rest, relax and rejuvenate with a 50-minute Reiki session in our private treatment room. Jamie will begin your session by guiding you through gentle breathing exercises and a grounding meditation. Once you are relaxed, Jamie will scan your energy field and begin to channel the Reiki energy, working on the areas of your body and auric field that require attention. Jamie follows an intuitive style of energy channeling and pays special attention to the mental, physical or emotional areas you feel drawn to heal. Essentials oils may also be included in your session to support you in your healing journey and Jamie may recommend spending some of your session balancing your chakras. Each session is a unique experience and you can expect to feel a sense of deep relaxation, which aids your mind, body and soul in the healing process. 50-minute sessions are most effective for individuals who desire to tap into their highest selves, who may be dealing with the symptoms of persistent illness, trauma, grief or stress. 
Reiki Check-In – 30 Minutes
$50 Zoom Only
A shorter version of our 50-minute Reiki session, this check-in also features guided breathing exercises and meditation in our private treatment room. Check-in Reiki sessions are most beneficial for clients who have overcome deep mental, physical and emotional symptoms and are inclined to maintain the free flow of energy in their bodies and auric fields. These shorter sessions are also beneficial for regular, affordable stress management and relaxation. Essential oils may also be used in our check-in sessions for support as you go about your day. This session is seated in our reading room area. 
Chakra Balance – 50 Minutes
$100 Zoom Only
When you feel out of energetic "alignment" your Chakras may be asking for attention and balance. This gentle and relaxing session includes guided breathing exercises and mediation. Jamie will evaluate each of your seven major chakras for imbalance using a pendulum that hovers just above each Chakra. Using gem stones, Reiki energy and essential oils, Jamie will help you to get in touch with the cause of imbalance and bring each Chakra into harmony one by one. This session is often an eye-opener and helps you to come to a deeper understanding of yourself.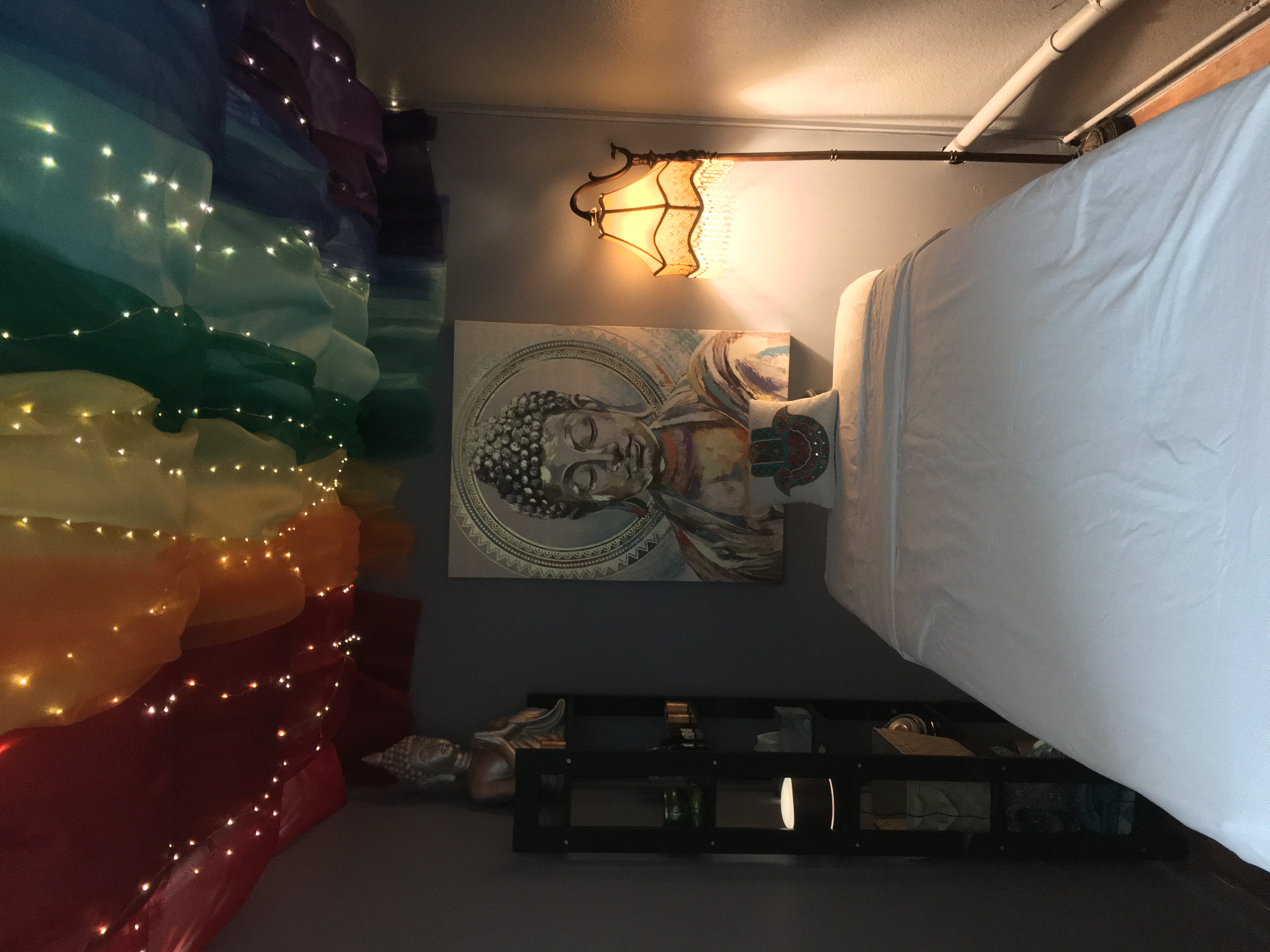 We cannot force stillness in the world but we can be still as the world moves around us…
Our treatment room was designed to create a peaceful space for relaxation and healing in a busy marketplace. We begin each session with a guided meditation to help you drift into a place  of comfort and bliss, which gives you the ability to transcend the hustle and bustle of the outside world. You will come into a space of calm connectedness, opening your heart and mind to the healing needed for your highest good. Your practitioner is both your guide and a channel for the healing energies that bring balance and wellness to the mind, body and spirit.