When:
December 28, 2019 @ 10:30 am – 12:00 pm
2019-12-28T10:30:00-08:00
2019-12-28T12:00:00-08:00
Where:
The Moon Shadow Collective @ Freighthouse Marketplace
2501 E D Street Space #40 Tacoma
WA 98421
Cost:
$10.00 Suggested Donation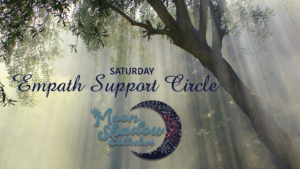 The Empath Support Circle is for individuals who are learning to manage the exceptionally special gift of being an empath and experienced empaths who would like to share and continue to grow. Sometimes the overwhelm and anxiety of life as an empath can leave us feeling isolated and alone. This group is here to love and support each other through the shared experience of being emotionally and psychically gifted. Guided by empath, Reiki practitioner and teacher (Master), Jamie McCormack, this space is open to persons from all walks of life. In this group you will find friends who are ready to become empowered empaths and begin the path to making space in our lives for self-care while being true to our "helper" roots. This sacred space will be a place for sharing your experiences, whether they are perceived as good or bad, and have the support you need to carry on your journey in a healthy and positive light. Each meeting will begin with a gentle guided mediation and quiet time to allow us to connect with our higher selves and each other on a soul level.
**We will be using yoga mats and bolsters for gentle movement, meditation and seating. If you require a different seating arrangement, we are happy to accommodate you.  A $10.00 donation is appreciated but not required.**
Guidelines for Participation
Please note anyone joining us for the support circle is asked to bring their most compassionate self, a willingness to share, listen and learn, and most importantly, an open heart. This space is free of competition, judgment and aggressive behavior. Participants may always request a time out if needed. We will reserve a few minutes toward the end of each support circle for sharing personal and professional news.
To join, please complete our Group Registration Form
Space is limited. Please be sure to register ahead of time.
Contribute Electronically