When:
December 7, 2019 @ 10:00 am – 4:30 pm
2019-12-07T10:00:00-08:00
2019-12-07T16:30:00-08:00
Where:
The Moon Shadow Collective @ Freighthouse Marketplace
2501 E D Street Space #40 Tacoma
WA 98421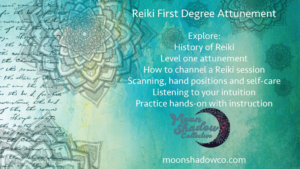 **Class is onsite at The Moon Shadow Collective in Tacoma, Washington**

Join Reiki practitioner and guide (master), Jamie McCormack, for the attunement to the first symbol of the Reiki system.
In this interactive workshop we will explore:
Basic principles of Reiki
History
Ethics and guidelines for treatment, including working with young children, mature adults, those suffering from long-term illness and pets
Attunement to the first Reiki symbol
How to channel a session from beginning to end
Scanning (for others and yourself)
Hand positions for treating others
Hand positions for treating yourself
Using your intuition
Hands-on table work/chair work 

Our Reiki First Degree Attunement (Reiki I) workshop will begin with a gentle grounding meditation circle. As we work together in this sacred space we will dive into the principles of Reiki, a brief history, ethics and guidelines and just before lunch, each student will receive their attunement to the first symbol of the Reiki system.

We break for 45 minutes for lunch. This is an excellent time to notice how the Reiki energy feels in your hands and body. Students may buy lunch in the Freighthouse Marketplace food court or bring their own sack lunch. A high-protein vegetarian lunch is recommended but not required.

After lunch we will take a moment to reconnect and ground again with a brief meditation before we review how to channel a Reiki session from beginning to end, how to scan yourself and others, standard hand positions and the role intuition plays in a session. Last, but most certainly not least, students will have the opportunity to practice short sessions using both a standard massage table and portable massage chair.

Most of our class will be seated and we provide yoga mats for all students. Participants are encouraged to bring a pillow, blanket, a journal and water bottle. If floor seating is not comfortable for you, please let us know and we will create a comfortable sitting space for you.

Students will receive:
Attunement to the first symbol of the Reiki system
A printed and PDF copy of our Reiki I Workbook
A printed and PDF certificate of course completion

Please note in order to participate in First Degree Reiki Attunement (Reiki I) at The Moon Shadow Collective you must first complete the Elemental Grounding Class and Chakras Basics Class. Both classes are offered online through The Moon Shadow Collective. To learn more about why we have prerequisite classes, please read: "Why are there prerequisites for Reiki First Degree Attunement (Reiki I)" on our blog. 

About Jamie:
Jamie is a seeker who has been exploring her spiritual path most of her life. She has worked professionally as a writer, and in advertising, and is currently the managing partner and Reiki Master at The Moon Shadow Collective in Tacoma, Washington. She has been guiding and teaching others for nearly twenty years; her classes have ranged from broadcasting and production for elementary school students, creative writing for adults to soccer for kids and adults.  As an Empath, whose hands were always a-buzz in the midst of others, Jamie sought ought Reiki training to understand healing on a deeper level. Opening the door to energy healing helped give Jamie the confidence to expand her studies into herbalism, meditation and chakra healing.
Reiki First Degree Attunement (Reiki I) Class Bundle Discounts
To receive class bundle discounts (20% off the total), Elemental Grounding (online), Chakra Starter (online) and Reiki First Degree Attunement (onsite @ The Moon Shadow Collective) must be purchased together. Students who would like to purchase classes individually will receive a 10% discount on Reiki First Degree Attunement (Reiki I) for the 12/7/19 class only. Payment must be made before the class date. Refunds are only available for seven days after purchase. Any classes taken will be deducted from the total.

Reiki First Degree Class Bundle (Includes Elemental Grounding Class and Chakras Basics Class)
Regular Price: $185.00
20% Discount: $37.00
Total Price: $148.00

Reiki First Degree Attunement (Reiki I) Only
Regular Price: $125.00
Discount for prior course purchase and completion: 10%
Total price: $112.50


For students who would prefer to pay cash – please call  253.468.8479
Workshop location: 
The Moon Shadow Collective
Inside Freighthouse Marketplace
2501 E D Street
Space #40
Tacoma, WA 98421
253.468.8479
Moonshadowco.com